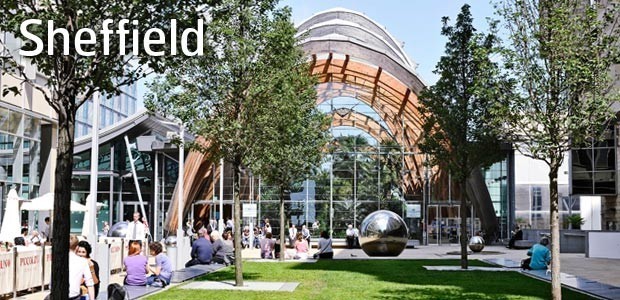 Sheffield is one of the best places to live in the UK. All the benefits of a major city, fourth largest in the country, with dozens of unique communities that make the city feel like the biggest village in Britain.
A third of the city is in the Peak District National Park and our open spaces, park land and tree spaces makes us recognised as Europe's greenest city. We're also a stone's throw away from the Derbyshire countryside which features the magnificent Chatsworth House.
Traditional industries still abound, from steelmaking to bespoke cutlery and knives. Alongside this cultural and creative industries in design, film-making, games and animation flourish too. Our dynamic and growing hi-tech and business sector means that the "Made in Sheffield" mantra keeps reaching out to new audiences.
Two of the UK's best universities draw people from around the world. Many who come to study never want to leave and make Sheffield their second home and you can see why.
The largest theatre complex outside of London featuring the Lyceum and world famous Crucible (home to the World Snooker Championship since 1977), galleries, cinemas, arts and crafts, a great sporting heritage with passionate fans combine to make Sheffield special.
When we've finished working, learning and being entertained then food, drink and shopping come high on our list of priorities. Boutique shops, mega retail centres such as Meadowhall, great local food and cuisine from around the world combined with diverse festivals, events and live music makes our big village one of the best places to live and work.
Images courtesy of Welcome to Sheffield